Larry, Kaylynn and I woke up Tuesday at 4am to head to the airport for NYC. We caught our 6am flight so that we could arrive in NY at 1pm. After checking into our apartment, eating lunch, we headed to Dr. Ciesler's, eye doctor, for our appointment. Kaylynn's eyes are still doing well. She has a lot of farsightedness, but we don't have to worry about patching or anything.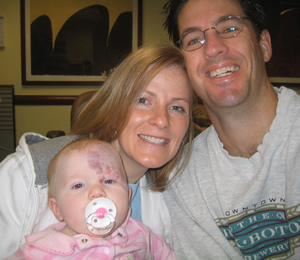 Wednesday morning we all got up at 5am to head to the hospital. We put Kaylynn in her little clown gown and waited for Dr. Waner to arrive. Laser was nice and quick. There is a lot less to laser. Kaylynn did real well again. We are on the downhill now. Yes! Meaning, that the "H" has almost stopped growing and we don't head back until January. Next treatment will be with the Pulse Dye Laser and some corrective retouching with a refractive laser. We don't know how many more treatments, but we just have to keep watching as Kaylynn gets bigger and older and the "H" being taken away by nature and the extra help of the lasers. Dr. Waner tells us that "yes, she will be perfect." The other good news, they did see some hair growing pretty far down the forehead, so maybe, just maybe, we won't have to do tissue expander for the hair line.

I must say, that Larry and I are Very Tired of New York. But seeing how well Kaylynn is doing and getting over the hill, gives us that little extra push we needed. It also relieves some of the stress with all these medical appts every week.


So tomorrow I head to surgery for my port catheter and Friday for my first chemo. What a week! I'm just taking it one day at a time. All I can say is that when I look into my two little ones faces, I just smile and think, I can do it! All of your prayers, words of support and kindness is really relieving my stress and anxiety. I don't cry much about my cancer, but more about everything each of you are doing for me.

Just FYI, I still smile and laugh. Especially when my friend Michelle is with me at all my appts, she is a 35 years old two year survivor of breast cancer, and we look like grandma and grandpa in the waiting rooms together. We realized Michelle has a pharmacy of good drugs in her purse. That I'm beginning to carry my daily pill case full of at least 20 pills. And when I went to get MRI done and they tell me to lie down on my belly and to put my boobs into the separated booby hole device. We couldn't stop laughing. What an experience!

Love to you all,
Traci, Larry, Kaylynn, & Reeve