Sunday, January 6, 2008 Back to the Big City for Laser with Dr. Waner. My blood counts where down due to chemo, but due to the 10 minute burning Nulesta shot that made my bones ache for a week, I got to go on the plane WithOut a mask. I have to tell you people, with a shaved hair do and also a mask, no boobs, I might have scared people.
Larry and I decided to fly direct on Jet Blue. It was easier. We left
Sunday morning
and dropped Reeve off with Mama and Papa to stay the night and Monday. Then off to the airport to arrive at
JFK
by 5pm. It was so nice to get there at a decent time, grab some food, get everything ready for our 5am wake up time for laser and to fly back.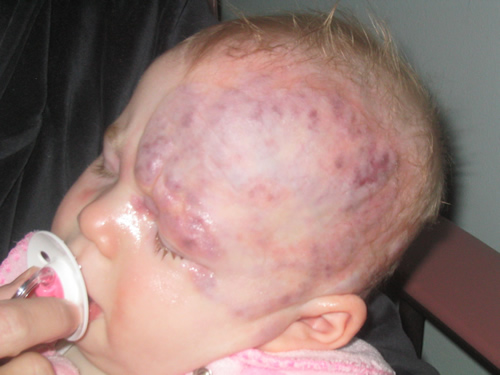 Monday, January 7, we woke up at 5am and had laser by 8am. Kaylynn did very well again. Dr. Waner was very impressed with her results and her hemangioma took well to the laser again. We don't know how many more treatments as it is still growing in some areas. The growth can go up to 18 months, especially when you have taken steroids for the first six months of your life. [Note: taking steroids made the H growth cycle longer, but also kept the H from getting worse. Where the steroids extended the life of the H, but without steroids, the H could have gotten much worse.] We are definitely over the hill and now just working on "making her perfect" as Dr. Waner tells us. We were home by 6pm. Only at 13 hour day. :)
Kaylynn's MRI/MRA results where good. No change. We have two internal hemangiomas. One under the right cheek and one on the back of the neck on the left side. But both Dr. Waner and Dr. Blei said not to worry about them. They will go away on their own in time.
We count our blessing everyday. As she is a healthy, happy baby girl. She is so good with medical care. She sticks her finger out when they take her pulse and oxygen level, she never cries when she hasn't eaten, and she just sits there as they listen to her heart and lungs. It is amazing. But we have to say, she is all about being a "girl". The drama times have begun. She can go from laughing to screaming in 10 seconds if she is not getting her way. It's funny how she just kind of knows when we have to have medical procedures done, but she thinks we are hurting her when we change her diaper.
We head back to
NY
in 6 weeks. I'm working on booking the trip. Probably around Feb 18th or so. It is nice to push it to six weeks now instead of 3 or 4 weeks. Kaylynn will turn one year old Feb 8th. And by the time she is two, we hope to be "perfect".
We are updating and working on the pictures, but
http://www.hinthecity.com/
is up and going. This guy we have working on the site... he is taking forever to get it done! *wink, wink*
Love to you,
Traci
PS. Red Devil Chemo Round 2 is Tomorrow! Bring it on! I get to eat some candy!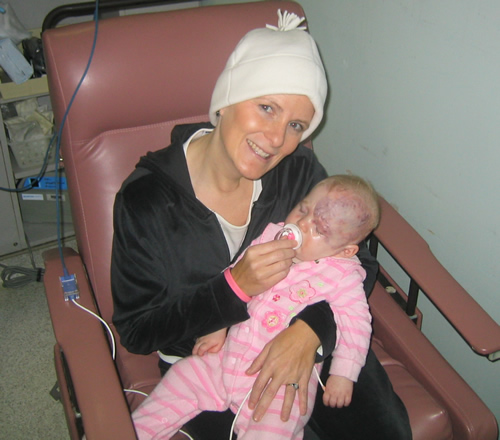 Love to you all,
Traci, Larry, Kaylynn, & Reeve